Invitation
모시는 글
안녕하십니까?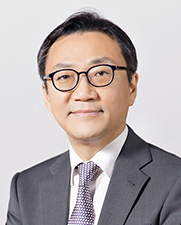 올해로 세 번째 맞이하는 아산국제의학심포지엄에 여러분을 초대하게 되어 매우 기쁘게 생각합니다. 특히 'Future Medicine in Digital Healthcare Innovation'라는 주제는 여러분께 또 한번의 혁신적인 화두를 던져줄 것으로 기대합니다.

오늘날 의료 산업은 디지털을 활용한 빅데이터, 인공지능(AI), 가상현실(VR), 3D 프린팅, 사물인터넷(IoT) 등 혁신적인 기술에 힘입어 빠른 속도로 발전하고 있습니다.

이러한 최첨단 과학기술을 적용한 의료기관은 기술간 융합과 복합을 통해 환자 진단부터 치료, 수술, 재활까지 더욱 효율적이고 우수한 의료 서비스를 창조하며 선진적인 환경으로 바뀌어 가고 있습니다.

이번 심포지엄에는 4차 산업 혁명에 힘입은 의료기술과 의료기관의 혁신, 그리고 이를 뒷받침할 정책적 제도의 방향과 비전을 짚어보기 위해 정부, 기업, 의료기관에 계신 국내외 전문가들을 초청했습니다.

강연에 이어 미래의료 변화에 대한 고민과 통찰을 공유할 수 있도록 심층적 토론과 함께 청중과의 소통의 시간을 마련합니다. 또한 디지털기술을 활용한 의료 및 연구업적을 전시한 공간도 다채롭게 준비하였습니다.

바쁘시더라도 참석하셔서 디지털 헬스케어 혁신에 대한 최신 정보와 아이디어를 얻고, 의료계 패러다임의 변화를 조망하는데 많은 도움 되시길 바랍니다.
Invitation
Dear Esteemed Colleague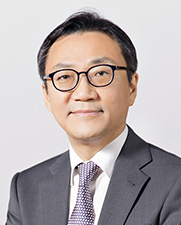 We are pleased to invite you to the Asan International Medical Symposium, which is celebrating its third anniversary this year. We believe that this year's theme, "Future Medicine in Digital Healthcare Innovation," will provide you with many topics on medical innovation.

Today, the medical industry is evolving at a rapid pace thanks to innovative technologies such as big data, artificial intelligence, virtual reality, 3D Printing, and Internet of Things (IoT).
By utilizing and converging such complex cutting-edge technologies, medical institutions are creating highly advanced environments by providing superior medical services including diagnosis, treatment, surgery, and rehabilitation.

For this symposium, we have invited domestic and international experts from government sectors, corporates, and medical institutions. We hope to gather their wisdom to pinpoint the desired direction of innovation for medical technology and medical institutions as well as its supporting policy system in light of the Fourth Industrial Revolution era.

We have prepared time for in-depth discussion and communication with audiences following the lectures to share their concern and insights on the upcoming changes in the medical field. We have also prepared many venues for displaying medical and research achievements built upon the state-of-the-art digital technologies.

Please join us to obtain the latest information and ideas on digital healthcare innovation and to see the latest changes in the medical paradigm.